1. How do u take out you Pokemon so he can follow you/attack wild Pokemon.
2. How to attack wild Pokemon. Quick reminder : if your Pokemon is not out wild Pokemon can attack you and warp you back to Pokemon Center.
3. Where to buy pokeball. In each town there is a pokemart wich u can buy certain items.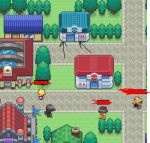 4. How to catch Pokemon.
5. How to change Your team. Go to Pokemon Center and click on the storage which are in top left and top right Then drag the Pokemon on your storage to your team.
6. How to earn coins in the game.To earn easy coins u catch Pokemon and sell them to Professor Aspen. The highest level Pokemon you catch the highest coins u receive.
7. How to battle other players in Pokemon Rise. First Make sure u are in a guild so u can enter the Gym. Then go to Gym and Battle other Trainers / Friends.
Trainers Tips :
Last edited: