So i noticed Epic495 trying to sell a iv reroll for 2 million Pokedollars. I thought that seemed too high of a price and asked for 1.5mil(Average Price is 1 million). He said a straight no. then after some thinking I decided to pay for the reroll. So i reroll my Genescet's ivs, and they're worse now. I decide to go for another reroll.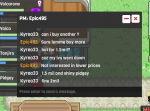 so i thought ok that must be the average price for an iv reroll, and bought it again. even though genescet's ivs dropped yet again, I was told that the average price of a reroll is 1 million. That made me feel scammed here since i payed double the price.
So please help me make this player Epic495 pay for scamming.
-Kyreo