For players that want to create pixel art clothes, attached is a zip folder full of templates meant for use with gimp and Photoshop, the same can be found on the discord pinned under the art tab.
T
emplates layers includes:
Hats
hair
tops
bottoms
shoes
basic wings
basic cape
all should be in 256x256 pixels and remember to use a 2 px brush when drawing you own design.
The best softwares to use are Photoshop or gimp.
Both programs have great tools, helping you edit your images properly and efficiently. The tools in Photoshop are much more powerful than the equivalent tools in GIMP. Both programs use curves, levels and masks, but real pixel manipulation is weaker in gimp.
HOWERVER
The real Photoshop experience costs money and Gimp is free to download
There are other softwares you can download and use but they vary in quality and settings especially for mobile devices.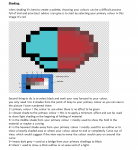 if you have any questions please feel free to pm me and ask on discord.
Last edited: